Fencing
Our fence can protect yards, villas, stables ,farms ,boarder, wherhouse, playground, restaurant , parking etc.We can offer customized solutions to incorporate requirement like electric ,data ,camera systems for specific zone like ports,restricted zone on to the fence.Materilas we used for fencing stainless steel, galvanized steel with powder coating and electroplating depends customer specification
Features: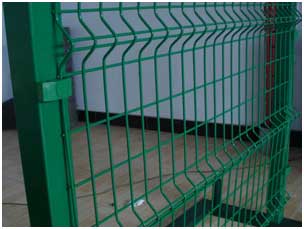 Anti-climb: More small openings, no toe or finger holds.
Anti-cut: robust wire and welded joints make cutting very difficult.
High-strength: The superior welding technique and process control create a stronger fusion between the wires.
Finish treatment:

There are two treatment types: hot dipped galvanized and plastic coated.
The colors of plastic coated are mainly green and black. Each color is available according to your require.
Post type:
The post type is main square post. The feet are combined with cement support with the rivet.
Applications:
Bridge anti-climb guarding & guard safety screening
Psychiatric hospital security fencing
Prison security fencing
Factory machine guards
Walkway security fencing
Airport security fencing
Shipping Port Security fencing
Electrical sub-station fencing
Gas pipelines security fence
High security living area and private field fence.
Welded Mesh Fencing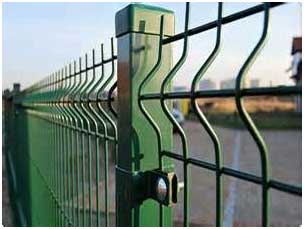 Welded mesh fencing panels offer an extremely high resistance security for various applications. Welded mesh fencing is characterized by it's attractively profiled mesh panel. This not only lends the modern and representative appearance, but it is also highly functional. The mesh width of the Triton panel makes these fences virtually impossible to climb over. The panel stability is improved by the distance between the posts. In addition to using stainless steel fixation sets, the welded mesh fence panels can also be suspended from the posts.
Welded mesh panel fencing offers great strength and endurance to bending over the whole surface and we add to 2 to 4 folds in a "V".In turn, the 30mm that blunt at the top or bottom are uncut wires. we use as defensive more security.
Applications:
residential areas, housing,farms, gardens, industrial.
Welded fence panels can be used for private estates, industrial areas, sports facilities.
Temporary Fencing

The temporary fence panel uses hand welding for optimum strength with an average of over 70 micron hot dipped galvanised finish. We use the highest quality material specification which is popular frame post with 32mm diameter horizontal and vertical pipes with a min 2mm wall thickness.
Temporary mesh fencing Specifications:Anti -climb mesh infill;

Wire dia: 3mm to 5mm;
Mesh size: 150 x 50mm,150 x 60mm and 200 x 50mm;
Frame post: 25mm,32mm,38mm,40mm,42mm and 48mm;
Panel size: 1800mm(H) x 2400mm(W),2100mm(H) x 2400mm(W),2100mm(H) x 2900mm(W) and 2100mm(H) x 3300mm(W),etc;
360° welded between the vertical & horizontal pipe;
Horizontal pipe ends crimped for increased strength;
Fixed fittings: iron clamps and temporary fence blocks in plastic or metal base.
Applications:

To secure construction sites and private property;
Easy install and remove;
residential areas, housing,farms, gardens and industrial.
Mobile fence
Temporary fence
Garden fence
Wherehouse fence
Playground fence
Restaurant fence
Heavy duty steel speed hump


Slow-motion Heavy Duty is the modular steel speed control system for seriously heavy vehicle applications (including 'B'-Doubles). Perfectly suited to transport depots, factories and terminals etc.
Our super strong chassis construction with 6mm floor plate and 6 bolt fixing make our Slo-motion Heavy Duty virtually indestructible.The Heavy Duty speed hump does not require a rubber underlay to prevent rattle.
Product Features:
Designed to comply with AS/NZS 2890.1:2004.
More than four times the load bearing contact area with the road surface than competitor's products.
Use with or without steel end caps.
Comes complete with all fixings.
Truly independent modules for easy removal.
Does not need a rubber underlay to prevent rattle.
Concealed fixings remain accessible.
Modules have a built in bridge design to accommodate hoses or cables.