BOLLARDS
Esa offers wide range of bollards that goes beyond just the function of protection ,it enhances the appeal of the architecture and the streetscape .our bollards models are available in different materilas ,design ,protection level meant for protecting diverse types of premises.we can offer customized solutions matching the properties architecture and landscape.
Esa offers bollards in stainless steel, mild steel ,galvanized steel , wrought iron , pvc, polycarbonate ,PU, and rubber ,our bollards comes in custom sizes, design , and are of high built quality and are easy to maintain .our bollards are offered in various finishes like Mirror ,satin, Rustin ,powder coated finish.
Flexible Bollards

also known as impact recovery bollards, instantly pop back into shape and position following an impact from a car – perfect for delineation of traffic lanes, preventing unauthorised parking or highlighting a hazard. Remember damage is greatly reduced to both the car and the bollard due to the flexible material. Best-seller: Flexbrite Flexi Bollard 1000mm
Fold-Down Parking Posts: come fitted with a hinge at the base, allowing the bollard to fold flat to the ground, allowing temporary access, until the bollard is locked once again in the upright position. These fold-down posts are perfect for protecting a car park space, restricting access (e.g. only the delivery driver has the key) or even for theft prevention. However remember when the bollard is in the down position, it is lying flat on the ground – will this present a trip hazard if left down for prolonged amounts of time in a pedestrianised area? Best-seller: Autobahn Folding Parking Post
Removable Bollards: can reduce the trip hazard highlighted above as when access is needed for the area, the bollard is removed and not left in the "down" / flat position, but rather put to one side. Again these removable bollards are widely used for access control on both temporary and permanent basis.
Retractable Bollards:
these bollards typically sink into ground remaining flush with the surface when access is required – they offer the ultimate convenience: no trip hazard as with the fold-down and no "where do I store when not in use" challenge of the removable bollard. The one potential downside is that there will almost certainly be a lot more excavation associated with installation of a retractable bollard…. Maybe not a big problem if you are installing a new yard. Best-seller: BudgetBollard Anti Ram Retractable Security Post – these security bollards provide excellent theft deterrence and anti-ram benefits for your premises.
Fixed Bollards
really just do what they say on the tin. These are bollards that will be left permanently in place by either fixing with bolts, or concreting in. Fixed bollards are the solution to separating cars from pedestrian areas or providing an anti-ram deterrent on a forecourt or retail development.
Commercial Bike Racks
Outdoor bike parking racks for commercial spaces
Commercial bike racks feature simple 2-point installation. Select from surface mounting or embed options to store up to 2–7 bikes at a time. Standard powder coatings and stainless steel _nishes satisfy a range of building and landscape designs. Install bike racks at outdoor public spaces, commercial retail stores or indoor parking garages. Standard powder coatings and stainless steel _nishes satisfy a range of building and landscape designs. Bike racks are ideal for outdoor public spaces, retail storefronts, parking garages, and other concrete areas.
Semi Dome Stainless Steel Bollard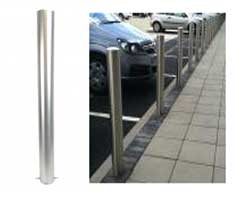 For an excellent alternative see our Stainless Steel Mitre Head Bollard.
The Semi Dome Stainless Steel Bollard can be used to stop cars entering into areas or create pedestrian walkways s
Made from high grade 304 Stainless Steel
114mm Diameter
1200mm total height
For concreting in – can be installed quickly and easily
Includes integral anchor bar
Cheaper prices if purchasing bulk quantities
IN STOCK means fast delivery
Cobain Wide Arm Fold Down Bollard
The Cobain Wide Arm Fold Down Bollard provides an excellent means of deterring vehicle entry where needed – especially ideal for deterring entry into own parking spots or private areas.


900(H) x 800(W) mm
Hot-dip galvanised steel – will not rust or corrode
Euro-profile cylinder lock – easy unlocking
Powder coated – long-lasting colour protection
Red reflective bands – highly visible
Easy installation – bolts required but not included
Wide Arm design – reduces space between posts
Henley Fixed Bollard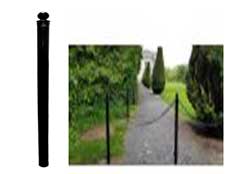 The Henley Fixed Bollard provides a high quality, highly attractive bollard that gives the best finishing touch to a public area .Ideal for roadsides, housing estates, business premises and more
1400mm total height; 60mm Ø diameter
950mm above ground
Hot-dip galvanised steel – rust-free for life
Easy installation – concrete into the ground
High quality powder-coating – long-lasting colour
Custom colours available
Removable Parking Post
DETER ENTRY EASILY WITH A REMOVABLE STEEL POST
The Autobahn Removable Steel Post is tough, durable and reliable parking post. It's ideal for public parking areas or forecourts as the ground socket can be covered, leaving you a flush surface with no trip hazards.


900(H) x 60mm Ø
Hot-dip galvanised steel – rust free for life
Powder coated – long lasting colour protection
Integral euro profile cylinder lock – easy access
Easy install – includes ground socket
 Optional spring-loaded cover to cover socket
Product Dimensions:
Height: 900mm above ground
Post Diameter: 60mm ø
Depth beneath ground: 400mm
Weight: 8.15 KG
3 keys included
Defender Barrier Surface Post

The Defender Barrier Surface Post provides excellent protection to nearby assets and is suitable for many environments including warehouses


900(H) x 89mm Ø
Hot dip galvanised – will never rust or corrode
Highly visible yellow with reflective black bands
Quick and easy to install – bolt down
Fixings required – order separately
Chain eyes available if required – join chains quickly
Dimensions:
Height: 900mm
Base Plate: 100 x 150mm
Weight: 7.5 kg
Post Dimension: 89mm
Budget Bollard Heavy Duty Retractable Driveway Post

Heavy Duty Retractable Parking Post that ensures your vehicle is always protected from theft. Its sturdy design means it is not easily damaged or removed from the ground without the key.


550(H) x 70(W) x 70(D) mm
Will be 800-900mm below surface
Includes discus padlock – lock in place quickly
Ideal for home or business use
Tough, durable anti theft device
Ensure employee parking spaces are not taken
Telescopic – retracts very easily when unlocked
Minimal trip hazards when not in use
Optional keyed alike padlocks for multi-purchase
The Budget Bollard Heavy Duty Retractable post requires that you dig a hole with a depth of 800-900mm to ensure that it retracts fully
Specifications
Height 550mm
Submerged depth 740mm.
Heavy duty 70mm steel square
Includes 2 keys
Note: The driveway bollard requires a hole with at least an 800-900mm depth in the ground to ensure it can fully retract
Protection Railing System – Bollard

The Black Bull Impact Protection Railing System is designed for the heavy duty protection of pedestrian walkways.


High quality German made – long lasting
Protects pedestrians from vehicular traffic
TUV-approved for top rated build quality
Part of a modular system
Counter-sunk bolts securely fix rails to posts
Easy to extend at any stage
Damaged sections are easy to replace
Easily secured with bolts (not supplied)
.Product Specifications:
Size: 1000 mm x 100 mm x 100 mm
Base Plate: 200 mm x 200 mm x 10 mm (drilled 4 fixing holes)
Weight: 16 Kg
45 Stainless Steel Bollard

45 Stainless Steel Bollard are designed from brushed stainless steel, giving you a stylish and high quality design. The 45 degree angle of the post head gives you a smarter design, with the choice of 2 diameters allowing you to cater for your surroundings. The polished stainless steel post is an excellent choice for commercial buildings, office blocks and business parks, giving you an excellent image.
Height: 900mm (above ground)
Width: 101mm/114mm
Stainless Steel Bollard

This larger diameter bollard has all the design features of the range of Stainless Steel Bollards but in a lower and broader profile giving the bollard much more presence. Manufactured from 304 quality seamless stainless steel in a brushed fi nish with a semi-domed polished head providing a long and durable service life. It is available in permanent sub-surface fi x or removable styles.
PRODUCT INFORMATION

The larger diameter of the Bollard differentiates it from the smaller Stainless Steel bollard.


Easy to install
Three types of fixing systems
Available in 3 diameters
Stylish brushed finish and polished caps
 Size: 600 mm, 204 mm (d)
Sub-surface depth: 400 mm (sub surface fix)
Bollards are ideal for use in retail parks, at shopping centres, and around public and commercial premises. They are also suitable for deploying in business parks, and in all kinds of public spaces. They can also be used to protect shop fronts.
Stainless Steel Bollards are made from brushed stainless steel with high quality polished top caps.
Easy to install
Three types of fixing systems
Available in 3 diameters
Stylish brushed finish and polished caps
Size: 900 mm (h) x 60 mm/76mm/108 mm (d)
Sub-surface fix and removable fix (removable fix only available in 76 mm and 108 mm (d))
Removable Bollard with Chain Eyes
USE CHAIN BARRIERS EASILY WITH THE NAVAN REMOVABLE BOLLARD

A very effective post, the Removable Bollard with chain eyes is excellent for demarcating out-of-bounds areas or for creating lanes for traffic.


 950(H) x 60(W) mm
 Includes ground socket
Each order also includes 1 Triangular Key
Comes with chain eyes
Connect chains from one bollard to another
Installed into the ground using the ground socket
Can be lifted out or put back into place easily
Can be unlocked and removed using the triangular key
Highly visible – White with 3 red reflective bands
Hot dip galvanised and powder coated
Specifications
Height above ground: 950mm
Depth in ground: 350mm
Diameter: 60mm
Includes 1 Triangular Key
Bollard Fixed Security Bollard

The Bollard Fixed Security Bollard provides excellent, long-lasting protection to loading bays – ideal for warehouses, freight depots and more


Available in 600mm or 1000mm high
Available in 89mm or 114mm diameter
Hot-dip galvanised steel – protected against rust
Highly visible yellow – noticeable at all times
Rubber black top – sylish finish
Easy installation – bolt into the ground.
Fixings required but not included
Specifications
•Base plate: 250 x 250mm
Height: 600mm or 1,000mm
Diameter: 89mm or 114mm (with 1000mm height only)
Defender Heavy Duty Sub-Surface Bollard

The Defender Heavy Duty Ram Bollard provides excellent protection to assets and infrastructure, ideal for busy warehouses where there is frequent work vehicle traffic


1500mm total height; 152mm Ø diameter
3.2mm wall thickness
Hot-dip galvanised steel – will never rust
225 usd
Powder coated yellow – long lasting
Easy installation – set in concrete instantly
Heavy duty – ideal for the busiest of environments
Dimensions:
Diameter: 152mm
Wall Thickness: 3.2mm
Length: 1500mm
Weight: 18kg
stainless Steel Bollard – Surface Mount
STAINLESS STEEL BOLLARD – ELEGANT AND MODERN

A stylish brushed stainless steel bollard ideal for commercial, residential properties.


 900(H) x Ø 76 mm
High quality MARINE GRADE Stainless Steel Bollard
Available in 304 or 316 Grade Stainless Steel
Large stocks of 304 for immediate delivery
Surface Fix: 3 fixing points
Easy installation on site – bolt down quickly
Optional chemical mortar if required
Specifications
Diameter: 76mm ø
Height above ground: 900mm
Weight: 6.5kg
Material: Grade 304 or 316 Stainless Steel

Street Stainless Steel Fold Down Bollard
STAINLESS STEEL FOLD DOWN BOLLARD – THE PROFESSIONAL FINISH

The Street Stainless Steel Fold Down Bollard gives you a modern looking security post which also allows you to grant access to vehicles when needs be.


900(H) x 76mm Ø
High quality 304 grade stainless steel
Fold down easily – allow access at any time
Euro profile cylinder lock – unlock with ease
Includes 3 keys per bollard
Bolt down with ease – order fixings separately
Rubber stopper – reduces risk of damage when folding
PRODUCT INFORMATION

The Street Stainless Steel Fold Down Bollard lets you gain access to closed off areas quickly and easily. The sturdy steel bollard stops vehicles entering areas at certain times, and is simply unlocked with a cylinder key and folded down when access is required. The hinged base lets you smoothly lower the parking post, allowing cars, vans and HGV's to drive over the post. It's perfect for:
Shopping Centres
City and town centres
Private use
The fold down posts is also ideal for home use. It's simple to install with 4 pre-drilled holes making it easy to bolt down (fixings required but not included). The key-hole is at the top of the post making it simple to unlock, and there is no need to bend over to unlock it like similar fold down posts. The Stainless Steel design can stand up to the harsh Irish weather conditions, withstanding rain and snow. It's one of our toughest street bollards, and is an excellent deterrent against ram-raids and other criminal activity.
Product Dimensions:
Diameter: 76mm ø
Height above ground: 900mm
Fixings: 4 bolts with rawl plugs
Weight: 6.5kg
3 keys included
Colour Choice Fold Down Bollard

The Colour Choice Fold Down Post lets you choose from 34 colours to secure access to areas, allowing you to temporarily allow access by folding them down to the ground.


Height: 900mm
Diameter: 60mm
Galvanised finish with powder coating
Euro profile cylinder lock
Comes with 3 keys
Order fixing kit for easy self install
Product Specifications:

Base Plate: 100 x 150mm
Weight: 4.5 kg
Diameter: 60mm
Steel Thickness: 2.5mmJunior Barrier Post with Chain Eyes(Product Code: P-752448)Delivery 7-10 days from order
The Autobahn Junior Barrier Post
The Autobahn Junior Barrier Post with Chain Eyes is an ideal solution for demarcating areas with low traffic. These barrier posts are suitable for use in a number of type of areas, such as forecourts.

Made from hot dip galvanised steel
Powder coated
Highly visible white colour with a red reflective band
Rubber cap at the top
Fitted with chain eyes
Can be bolted directly into the ground
Inserted into the ground using the ground spike version
Can be used to cordon off particular areas
Highly visible to pedestrians usd 32
Domed Stainless Steel Bollard
High quality stainless steel bollard, provides a professional looking bollard that is perfect outside a business premises or in a public area


1200(H) x 76 Ø mm
Grade 316 Stainless Steel – highly durable
Concrete into ground – easy installation
Stylish domed top with half-sphere – superb design
FAST delivery from stock
PRODUCT INFORMATION

The Stainless Steel Bollard – Sub-Surface can be quickly and easily installed directly into concrete where needed, providing an excellent, highly professional finish to a business premises, school grounds, hospital entrance and many more.The high 316 grade stainless steel provides an immaculate finish and the surface is sleek and comes with an almost mirror-like sheen.
Each bollard is 1200mm tall and will require to be concreted in approximately 300-400mm underneath the surface. Once installed it will remain in place for a long time, providing excellent benefits for years to come.The rounded dome top of the bollard ensures there are no edges and adds to the overall professional looking finish of the bollard. Made in a top German manufacturing facility these bollards are made from the best grade in 316 stainless steel and are resistant to corrosion and rusting over time.
For more information on our bollard range please call us for more information.
Product specifications:
Height – 1200mm
Diameter – 76mm
Material – 316 Stainless Steel
Street Stainless Steel Removable Post

This super stylish Street Stainless Steel Removable Bollard gives you a sturdy barrier post which can also be conveniently removed, allowing traffic to pass through if needs be.


900(H) x 76mm Ø
304 Stainless Steel – professional finish
Removable for occasional access
Easy to use euro profile cylinder key
Comes with 3 keys per bollard
Includes ground socket – easy installation
•
PRODUCT INFORMATION

The Street Stainless Steel Removable Bollard gives you a smart looking and convenient post which is ideal for a retail area. The modern design gives an elegant look, while the post is easily removed with a triangular key. This allows vans and trucks to get to delivery points easily and can be blocked off while the depot is closed.
The smart looking removable post can also be used with the Street Fixed Post, allowing you to close off areas and use the removable post for access at certain points. The removable bollard comes with an integral euro profile cylinder lock for quick and easy removal of the bollard when required.
Simple way to allow pedestrians into areas at any time but restrict the entry of cars
Should be concreted 400mm into the ground to keep the street post flush with the ground.
Simple to remove and insert, allowing you to quickly allow vehicles into areas
900mm height means drivers will see the post as they approach, minimising the risk of damage
 Classic design makes it suitable for offices, hotels of city streets

When you order the Street Stainless Steel Removable Bollard you will 3 keys to remove the post.

 Diameter: 76mm ø
Height above ground: 900mm
Depth below ground: 400mm
Weight: 10kg
Material: Grade 304 Stainless Steel
Flexbrite Ground Spike
The Flexbrite Ground Spike is an excellent addition to our Flexbrite Flexible Bollard range and can help to provide extra stability to the bollards when concreted into an area


300(h) x 30(w)mm
Base plate: 250mm diameter
Hot-dip galvanised steel – won't rust
For concreting into the ground
Flexbrites install onto surface plate
Extra durability for Flexbrite bollards
Ideal for permanent installations
PRODUCT INFORMATION

The Flexbrite Ground Spike is an excellent addition to the Flexbrite Flexible Bollards range and provides an excellent method of reinforcing the bollards when installation is being done. The main point on the ground spike should be inserted under the ground, whether on a grass verge, concrete or tarmac type area.Once in the ground the ground spike can be concreted into place, leaving the surface plate flush with the ground so that the bollard can be installed here. Using our regular flexbrite 110mm coach screws and rawlplugs you can then fasten the bollard into place easily, providing instant benefits for the area.These steel ground spikes are suitable for use with any of our 1 metre Flexbrite bollards and our 750mm high bollard. The spike is made from tough hot-dip galvanised steel and will provide excellent service for a long time, having excellent protection against rusting and corrosion while in use.
Try our Flexbrite Ground Spike today and ensure your Flexbrite flexible posts stay in place today.
Black Bull Impact Recovery Steel Protection Guard
These Black Bull Impact Recovery Steel Protection Guard are equipped with a polyurethane pad for extra re-enforcement.


High Quality German made – long lasting
76mm tube diameter on all sizes
Polyurethane pad elements flex and absorb impact
Reduces damage to impacting vehicle/equipment
Protects nearby assets
UV resistant
Minimizes start-up and repair damage
 Round steel tube 76 mm in diameter, 3 mm wall thickness
Available as plastic coated for indoor use or hot-dip galvanized and plastic coated for use outdoors
PRODUCT INFORMATION
A unique and patented development of our standard BLACK BULL Protection Guards that features the strength and protective attributes of steel combined with the ability to fl ex up to 10° from the vertical, reducing the incidence of damage and the need for repairs to both guard and vehicle. This is achieved by equipping the guard with fl exible shock absorbing polyurethane (PU) pads. These pads are UV, weather and temperature resistant, making them suitable for indoor and outdoor use.
Flexible and yielding guard
Flexes up to 10° from vertical
Minimises damage to vehicles
Reduces damage to floor
Specifications
Width 375 / 750 / 1000 / 2000mm
 Height: 390 / 640 / 1240mm
Diameter 76 mm
Wall thickness: 3 mm
Finish
 Indoor use: Powder coated yellow with black bands.
Outdoor use: Hot Dip Galvanised and powder coated yellow with black bands.
Maximum inclination limits
Height Inclination
390mm 55mm
640mm 95mm
1.240mm 190mm
Defender Drop Down Post
The DEFENDER is securely locked in position by means of a 'U' shaped locking pin, secured by a padlock (not supplied). Please ensure padlock shank does not exceed 5mm Ø.
PRODUCT INFORMATION


The Defender Drop Down Parking Post offers a robust and highly visible form of deterrence, ideal for use in car parks and parking bays.
Offers an effective way to deter traffic
Simple to install and operate
Hot Dip galvanised for long life
Can be locked with padlock (not supplied)
Comes in 3 finishes: zinc grey, red/white and black/yellow
Size: 1000 mm (h), 60 mm x 60 mm (d), when lowered 115 mm (h)
The Defender Drop Down post can be secured into position via a 'U' shaped locking pin, and secured by a padlock. Ideal for use in car parks, parking bays and in driveways the barrier offers a convenient way to deter traffic, and drops down easily when required. The post is available in both Surface and Sub Surface versions. Optional extras include red reflective bands and Chain Eyes.
round Anchor for Fixed PostsThe Ground Anchor For Fixed Posts provides an excellent reinforcement for bollards and can be easily installed on site
420(H) x 60 Ø mm
400mm above ground
Base plate – 100 x 150mm
Hot-dip galvanised steel – will not rust
Includes mounting fixings – easy installation
Ideal for areas with tarmac or other surface types
Suitable to use with many of our Autobahn bollards
PRODUCT INFORMATION

The Ground Anchor for Fixed Posts can be installed into the ground quickly and easily and provide an excellent means of applying added stability to fixed posts as well as allowing you to install the bollards in places with surfaces other than concrete – tarmac being a prime example.Each ground anchor is made from high quality hot-dip galvanised steel and will remain rust-free for life while in use. When installed the anchor plate will sit on the surface while the main pole section of the anchor will be approximately 400mm under the ground. Once installed the bollard can be tightened into place on the anchor plate using the included screws.The anchor provides an excellent means for installing bollards into different surface types while providing great stability for bollards once they are installed.