Wheel mounted platform
Wheel mounted platform possessing the desire feature with facility as well as railing made from high tensile Aluminium alloy, mild steel and stainless steel .Strong, sturdy and durable, specially designed with small wheels for easy movement.

Light in weight
Fire Proof
Rust Proof
ALUMINIUM WHEEL MOUNTED PLATFORM LADDER

HEIGHT AVAILABLE 3ft to 12ft

Side Main Extrusions made from Aluminium alloy "C" section 66.00mm X 31.00mm With spacious aluminium checkered plate platform wide steps on both side, guard rails fitted with aluminium safety railing, Hand Rail and painted MS Base frame attached with 4 wheels 2 parking jack on Base .
We can make with MS,ALUMINIUM And Stainless steel.
Static Work Platforms

Safe access to perform tasks at height where work is executed in more permanent environments.
Kee Safety uses Kee Lite Aluminum or Kee Klamp cast iron tubular fittings for platforms, step-overs and mini step-overs. Each platform is designed to your specific application and built to exceed OSHA safety standards. Static Platforms are flexible, durable and effectively protect workers from the hazards of slipping and falling when working at height.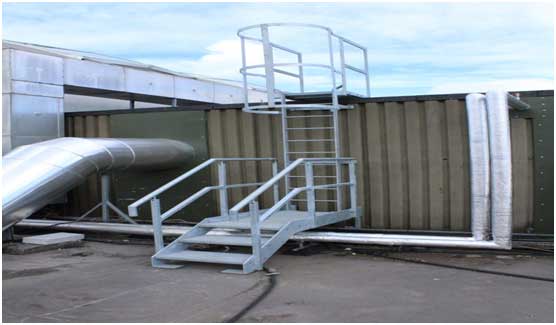 Features
 Available in lightweight Aluminum or Galvanized Steel
Modular design for fast, easy assembly
Manufactured using stock items provides shorter lead times
Can be pre-assembled for minimal site down time
Compliant with OSHA safety standards
Benefits

Excellent strength and corrosion resistance
Custom designed platform
Short delivery lead times
Minimal on-site disruption
Safety assured when used correctly
Professional Design
Each of our platforms are designed to suit a specific application and is built in accordance with all safety standards. CAD drawings are supplied with each quotation to allow customers to visualize our proposal.If the platform design needs to be modified to fit a different function, Kee Safety can easily re-engineer the existing platform to meet new requirements.
Delivery and Installation
All Kee Safety's access platforms are delivered with drawings to clearly show how to construct the platform. Small platforms can be delivered fully assembled but will require installation inspection before use to ensure complete compliance to safety criteria. Larger platforms are delivered as component parts and will be assembled on site by professional Kee Safety installers.
LADDERS
A ladder is a vertical or inclined set of rungs or steps. There are two types: rigid ladders that are self-supporting or that may be leaned against a vertical surface such as a wall, and rollable ladders, such as those made of rope or aluminium, that may be hung from the top. , but some types are permanently fixed to a structure, building, or equipment. They are commonly made of metal, wood, or fiberglass, but they have been known to be made of tough plastic.
Rigid ladders are available in many forms, such as:
Accommodation ladder are portable steps down the side of a ship for boarding.
Assault ladder, used in siege warfare to assist in climbing walls and crossing moats.
Attic ladder, pulled down from the ceiling to allow access to an attic or loft.
Bridge ladder, a ladder laid horizontally to act as a passage between two points separated by a drop.
Boarding ladder, a ladder use to climb onto a vehicle. May be rigid or flexible, also boarding step(s), and swim ladder
Cat ladder (US chicken ladder), a lightweight ladder frame used on steep roofs to prevent workers from sliding.
Fixed ladder, two side members joined by several rungs; affixed to structure with no moving parts.
Folding ladder, a ladder in the step ladder style with one or more (usually no more than three) one-way hinges. Ideal for use on uneven ground (e.g. stairs), as a trestle or when fully extended a Fixed ladder. Some variations feature a central one-way hinge with extensible locking legs.
Hook ladder or pompier ladder, a rigid ladder with a hook at the top to grip a windowsill; used by firefighters.
Mobile Safety Steps are self-supporting structures that have wheels or castors making them easy to move. They sometimes have a small upper platform and a hand rail to assist in moving up and down the steps.
Orchard ladder, a three legged step ladder with the third leg made so that it can be inserted between tree branches for fruit picking.
Platform ladder, a step ladder with a large platform area and a top handrail for the user to hold while working on the platform.
Retractable ladder, a ladder that looks like a drainpipe but can be deployed instantly when required.
Roof ladder, a rigid ladder with a large hook at the top to grip the ridge of a pitched roof.
Sectional ladder, also known as a builder's ladder, has sections that come apart and are interchangeable so that any number of sections can be connected.
Step ladder, a self-supporting portable ladder hinged in the middle to form an inverted V, with stays to keep the two halves at a fixed angle. Step ladders have flat steps and a hinged back.
Swim ladder, a ladder used by swimmers to get out of the water, often on boats.Ss ladder ms aluminum
Straight Ladders


Look to Grainger for a wide range of straight ladders to help you get the job done. Storage tank access ladders with durable, welded-steel construction and offset rungs help provide unobstructed hand positioning. Manhole ladders feature slip-resistant rubber pads for hard surfaces and spur plates that can dig into penetrable surfaces. Use a de-icing ladder to help reach trailer tops and remove snow and ice that can be hazardous on the road. Find these straight ladders and more at Grainger!
Ladder with handles
Ladder with caging
Hanging ladder
Ladder with flat step and handrails
Marine gang way with handle
Swimming pool ladder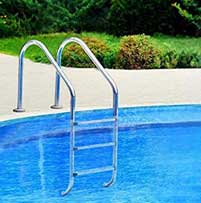 A new feature of this ladder is the variable radius of the curve in the grip section giving a more modern and attractive appearance. Steps with a width of 500 mm and made according to European Standards EN 13451-1 and EN-13451-2. Easily installed. With added top double safety step. Handrails Ø43mm x 1.5mm and steps in AISI-316 with polished finish. With anchoring fixtures and earth connection.
500MM WIDTH LADDER
EASY ACCESS MODEL
ELEGANCE LADDER
MIX LADDER
NONSYMETRICAL MIX LADDER
NONSYMETRICAL STANDARD LADDER
OVERFLOW LADDER MODEL 1000
STANDARD LADDER
MURO Ladder
Metal Steps

catwalks, mobile maintenance, and other access solutions. Available with a variety of options and stair tread types including diamond plate, bar grate, fiberglass, Antislip plank style treads, open and closed back risers,
Customizable with a large variety of heights and angles
 Variety of stair tread types include diamond plate, bar grate, fiberglass, Antislip plank style treads, open and closed back risers
Hand rail options include 1-1/4″ schedule 40 pipe, 1-1/2″ schedule 40 pipe, and square metal tubing
Shipped preassembled or palletized for field assembly
Portbles steps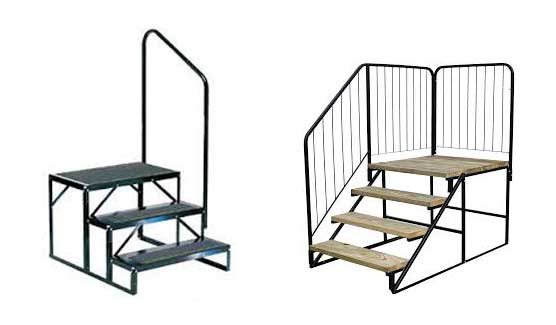 Steps with handrails
Steps with handrails
platform with shade
Metal ramp


Specifications:
Ramps available in lengths of 3′, 4', 5', 6', 7', 8', 9′ & 10′
Comes with handrail
Welded in 3′, 4′ or 5′ sections and then spliced to create additional sizes
Installs in minutes
Durable and weather resistant
Slip resistant grooved aluminum surface
All aluminum construction
Little or no maintenance
Limited Lifetime Warranty
Ramp with chequer plate
Ramp with handrails
Ramp with platforms
Metal Stairs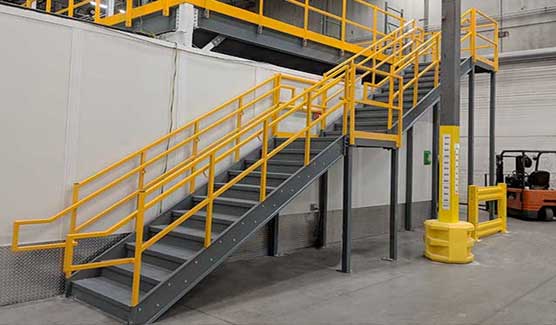 Prefabricated, Yet Custom Designed Metal Stairs
All Panel Built metal stairs, metal railing, and metal components are engineered, fabricated and powder coated at our plant for a lasting finish and fast delivery. But, that does not mean you will be receiving a cookie cutter stair system. Each metal stair project is still custom designed to fit the your specific space needs. That means if you need a specific stair layout with multiple landings, U-turn stairs, or a special Rise/Run, we can accommodate these custom designs.And Panel Built's metal stair features do not stop there! Panel Built offers a variety of handrail options to increase the safety of your new metal stair system. Handrail pickets, intermediate horizontal railing, mesh siding, and glass siding are just some of the different options we can accommodate. In addition, stair treads come in diamond plate, bar grating, or even cement filled pans. And both open and closed risers are available.
Quick & Easy Metal Stair Installation

With all of the stair fabrication done in our facility, once your new metal stair system is delivered to the project site, all that is left is the assembly. Our stair systems use the same bolt-together steel design that is used in Panel Built's mezzanine systems. This design helps to ensure that your stair is assembled as quickly and easily as possible.
Available for Both Interior & Exterior Applications

Our standard metal stairs are built to withstand harsh, interior industrial environments. However, if your stair system is for an exterior application, Panel Built can take care of those too! Our exterior metal stairs utilize an exterior rated powder coated paint, or if you prefer, we can have the entire stair system galvanized dipped to help provide a high level of weather resistance.
Out door metal stair
Indoor metal stair
Industrial stair
Metal stair with hand rails
Wood step,metal step and grating